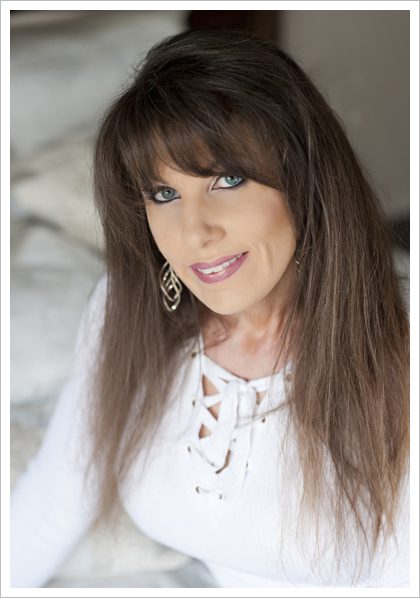 Michelle Stevens: Portland Boudoir Photographer
I am Michelle Stevens, an international award winning Portland boudoir photographer, Master Photographer and Certified Professional Photographer. Here is a little more about me.
Personal Philosophy
 
My personal philosophy as a boudoir photographer is that all women are beautiful, and deserve to feel that way.  Images of "perfect" women bombard us constantly in the media. The fact is, all these models and actresses have a huge advantage. They have a team of professionals that work to make them look so amazing. Without the hair and makeup artists, a professional photographer, and some photoshop magic, most of them look just like the rest of us. That is what I will do for you. I create images that show you just how fabulous you are. I love what I do because it changes how women view themselves. This text from one of my clients sums up why I love doing what I do…
Thank you so much! This was a spur of the moment idea but I feel I walked away with another perspective of myself. Never felt beautiful but walked away seeing myself differently…. 

Professional Experience
 
I received my degree in commercial photography in Minneapolis, and opened my first storefront studio in 1989. Over the years I have specialized in weddings and portraits, as well as commercial work. In 2016 I decided to start Mademoiselle's as a sister company to my wedding and portrait business, Artistique Photographie.
As a photographer, I compete internationally through Professional Photographers of America (PPA) and Wedding & Portrait Photographers International (WPPI). I have won multiple awards for my images, including the Kodak Gallery and Fuji masterpiece awards. International judges, who are highly regarded photographers for their technical and artistic talent, judge the work submitted to competitions. They give the awards based on a number of elements, including lighting, posing, composition, and technical expertise. I myself am also a judge, and judge regularly with our state affiliate, Oregon Professional Photographers Association (OPPA).
What this means for you is that I know how to pose and light you in the most flattering way possible. I don't just copy things I see on Pinterest, I make choices based on my technical knowledge, and 29 years experience in my profession. I work with you to create the style of images that best captures the feel you are looking for.
A Master Photographer is a certification though PPA and so is a Certified Professional Photographer. Professional certifications are a step beyond Facebook and Instagram likes, although these are important! They assure you that you are hiring someone who is a qualified professional, and not just someone doing photography as a side job, or for fun. I was also honored several years ago by being chosen as the feature photographer and cover of Professional Photographers magazine for my wedding work.

Contact Me
If you are looking for a Portland boudoir photographer, I would love to hear from you! You can email, or call/text me anytime at 503-310-9083. I look forward to helping create some amazing images that you love.
~Michelle